CROSSTRAK
Purpose-built off-road hybrid camper
The Jayco CrossTrak is compact and lightweight, boasting a 450kg payload with a low 1,150kg TARE weight. The reduction in weight comes down to our market-leading hot-dipped galvanised Endurance 2.0 chassis (as seen on Silverline) and the JTECH 2.0 Independent trailing arm suspension.
JTECH 2.0 suspension
Showcasing the new generation of Jayco chassis with JTech 2.0 suspension. JTech 2.0 is designed specifically for off-road adventures which means you can venture further with confidence. The new, lightweight, Australian engineered and manufactured JTech 2.0 trailing-arm suspension is compact in size, durable, and reacts better to road undulations.
External kitchen
Outdoor living is at the heart of the CrossTrak, with the outdoor kitchen featuring a 2-burner gas cooktop, stainless steel sink, overhead storage, towel rail and plenty of bench-space. Alongside the concealable kitchen is a 720litre boot with a slide out 55litre portable 12V fridge.
Leading technology
You may be off-road, but you can stay in touch with your social networks, with technology features including USB charging ports. Entertain your family and friends with Furrion bluetooth speaker dock. Plus download the new JHub phone app to monitor water and battery levels from one intuitive app on your phone. (Must be within Bluetooth range)
Outdoor ensuite with privacy screen
The rear hatch opens upwards to reveal the outdoor ensuite, complete with drop-down privacy tent and shower, with the option for a portable toilet. Ontop the rear hatch is also a 150W flexi solar panel for charging your 100 AMP battery.



13 ft Jayco CrossTrak 13.39-1 2019
Tare Weight (kg): 1350
Travel length (mm): 5400
Travel height (mm): 2400
Body (L): 4190
Width (inc awning): 2040
Sleeps Up To: 2
Ball Weight (kg): 150
Item condition: New
Availability: Dealership
ID: 3474
Jayco CrossTrak Hybrid 13.39-2 2019
Tare Weight (kg): 1350
Travel length (mm): 5400
Travel height (mm): 2400
Body (L): 4190
Width (inc awning): 2200
Sleeps Up To: 4
Ball Weight (kg): 150
Item condition: New
Availability: Dealership
ID: 5606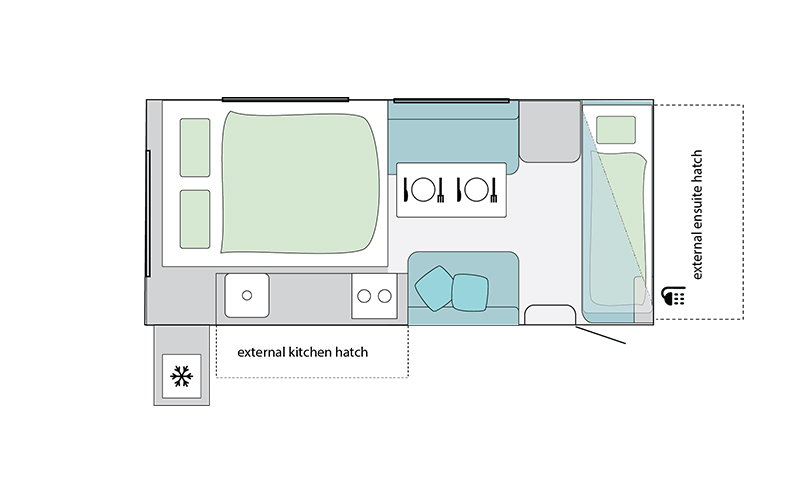 CrossTrak 16.48-2 2020
Tare Weight (kg): 1550
Travel length (mm): 6140
Travel height (mm): 2590
Body (L): 4970
Width (inc awning): 2040
Sleeps Up To: 4
Ball Weight (kg): 205
Item condition: New
Availability: Dealership
ID: 7005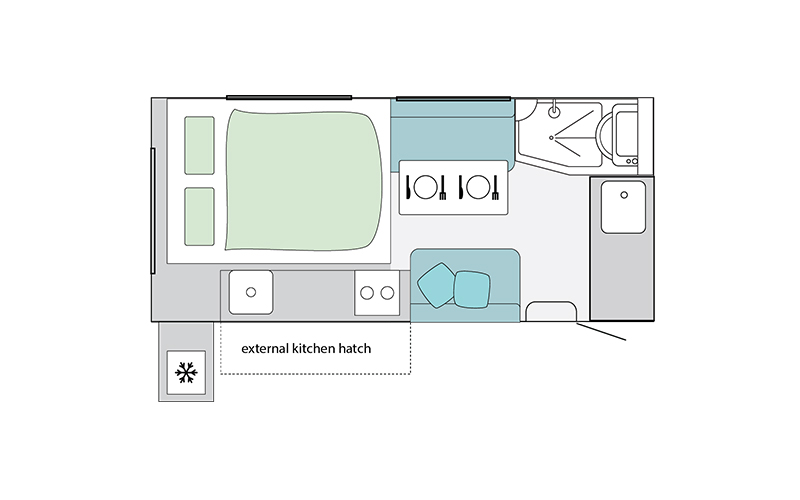 CrossTrak 16.48-1 2020
Tare Weight (kg): 1500-1549
Travel length (mm): 6140
Travel height (mm): 2590
Body (L): 4970
Width (inc awning): 2040
Sleeps Up To: 2
Ball Weight (kg): 205
Item condition: New
Availability: Dealership
ID: 7004