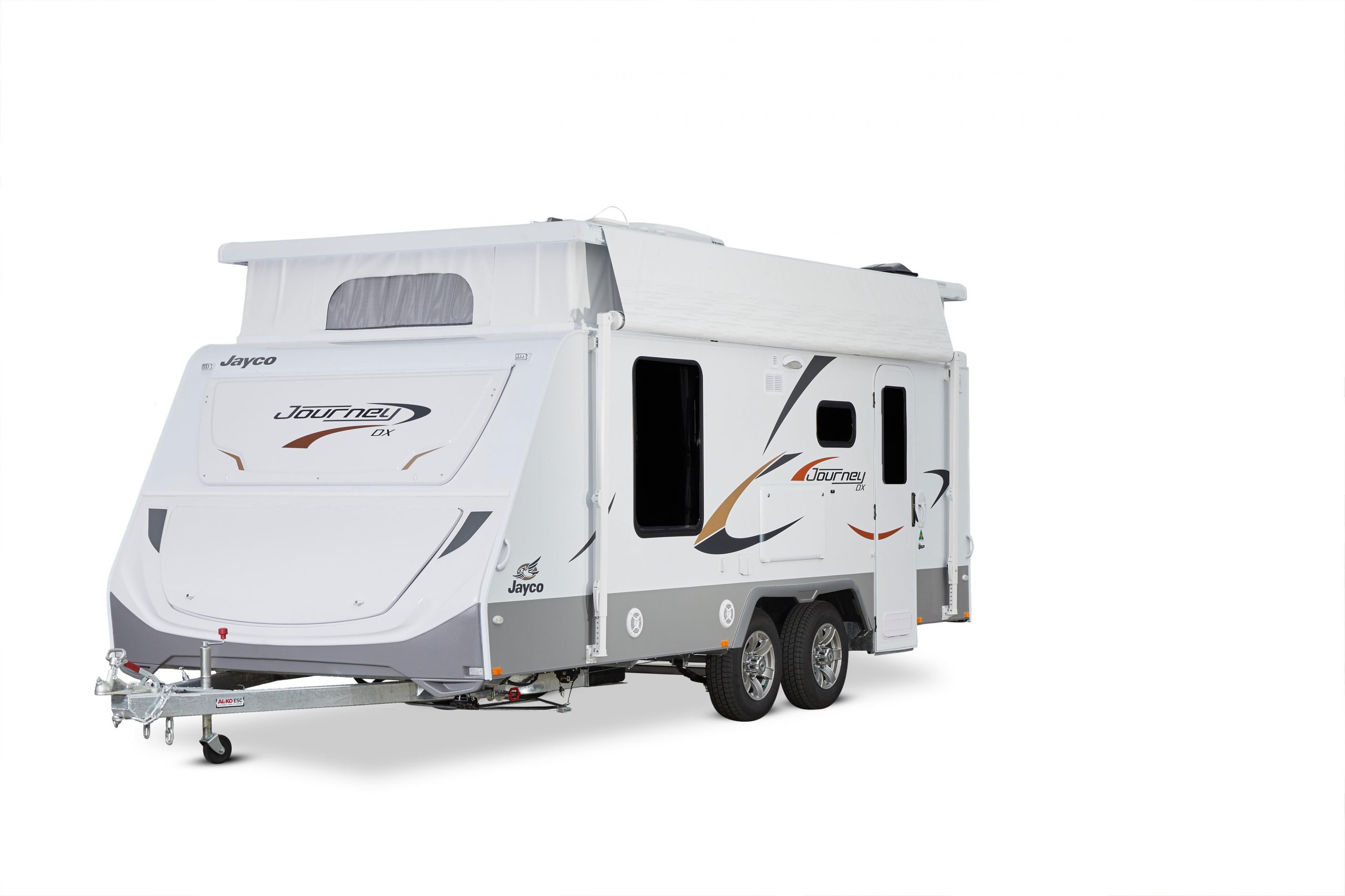 JOURNEY DX POP TOP
Enjoy comfort and luxury
Jayco's flagship Pop Top range, Jayco Journey DX, is luxury on wheels. If you are a seasoned traveler looking for extra tough with more comfort, look no further. Our signature hot-dipped galvanized tandem-axle chassis is tough and built to last. Jayco's market-leading wall construction with multilayered, vacuum-bonded fibreglass walls provides great thermal and acoustic insulation for extra comfort.
JHUB Phone App
BMPRO JHUB Phone app connect to manage your van with ease.
148 litre fridge
Keep your drinks cool and food fresh with the 148 litre 3-way fridge.
Air-Conditioner
Stay comfortable in any climate with a roof mounted air-conditioner.
WiFi with GPS
Stay connected with increased access to WiFi.
View the touring floor plans
17 ft Jayco Journey DX 17.55-8 2019
$45,990
View Detail
Type: Journey DX
Tare Weight (kg): 1835
Tow ball (kg): 150
Travel length (mm): 7050
Travel height (mm): 2455
Body (L): 5705
Interior (L): 5186
Interior (H): 2115
Sleeps Up To: 2
Item condition: New
Availability: Dealership
ID: 1555
17 ft Jayco Journey DX 17.55-9 2019
$45,990
View Detail
Type: Journey DX
Tare Weight (kg): 1850
Tow ball (kg): 150
Travel length (mm): 7050
Travel height (mm): 2455
Body (L): 5705
Interior (L): 5186
Interior (H): 2115
Sleeps Up To: 2
Item condition: New
Availability: Dealership
ID: 1553
View the outback floor plans
17 ft Jayco Journey DX 17.55-8 Outback 2019
$51,490
View Detail
Type: Journey DX
Tare Weight (kg): 2100
Tow ball (kg): 178
Travel length (mm): 7200
Travel height (mm): 2670
Body (L): 5705
Interior (L): 5186
Interior (H): 2115
Sleeps Up To: 2
Item condition: New
Availability: Dealership
ID: 1556
17 ft Jayco Journey DX 17.55-9 Outback 2019
$51,490
View Detail
Type: Journey DX
Tare Weight (kg): 2100
Tow ball (kg): 178
Travel length (mm): 7200
Travel height (mm): 2670
Body (L): 5705
Interior (L): 5186
Interior (H): 2115
Sleeps Up To: 2
Item condition: New
Availability: Dealership
ID: 1554