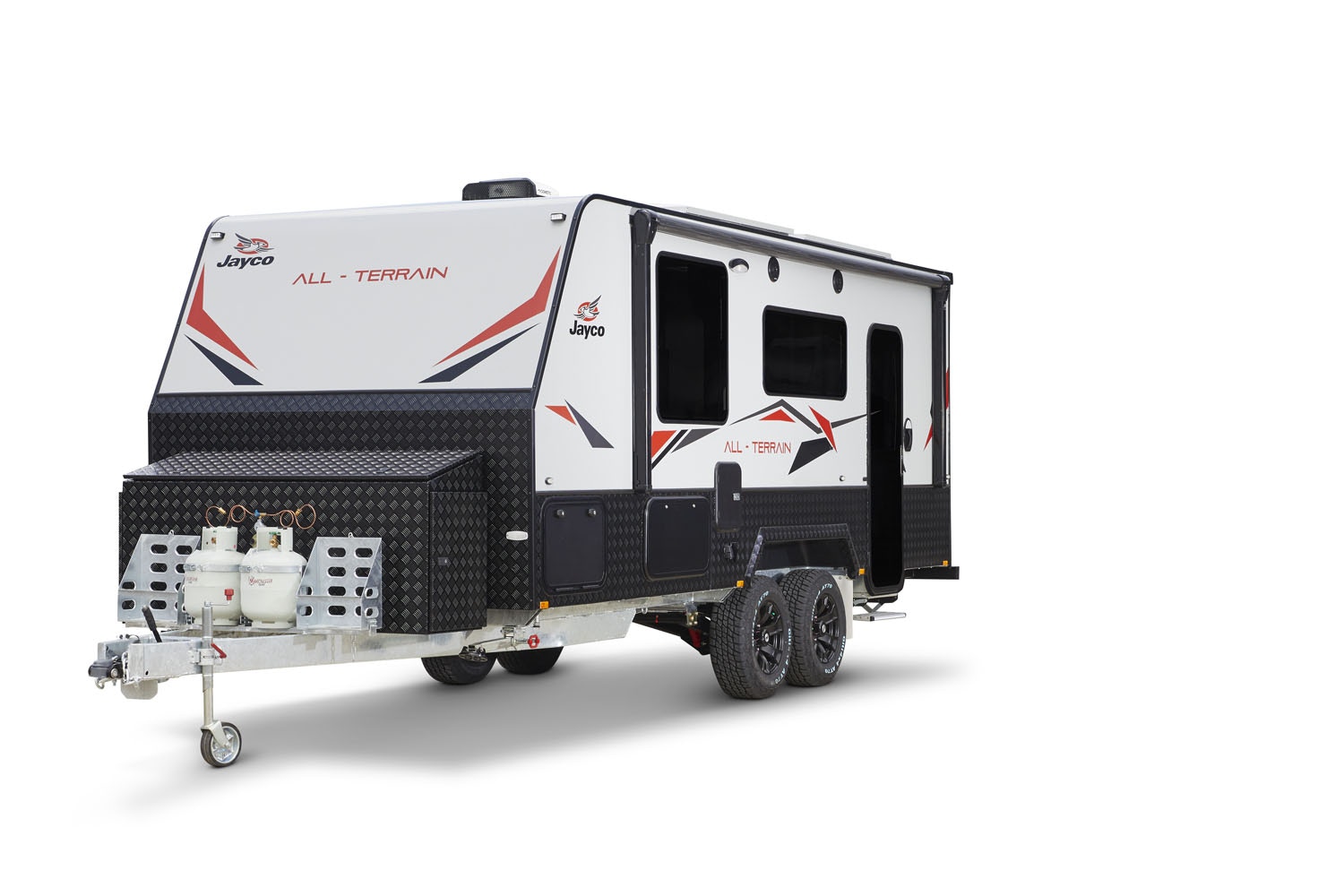 Going off-grid has never been easier
The Jayco All-Terrain series is our toughest off-roader, purpose-built to tackle the tough Australian terrain.
Strength doesn't have to come at the expense of comfort: Jayco All-Terrain is a premium RV complete with all the trimmings but has extra rugged features to make packing up and heading off the grid that much easier.
With new features that set it apart from others like aluminium furniture construction and checker plate armour, the All-Terrain is ready for your adventure.
If you're after an adventure seeking, purpose built off-road RV – the Jayco All-Terrain range is all brawn.
JAYCO ALL-TERRAIN CARAVAN
Features:
Chassis – Hot dipped galvanised
Furniture – Euro style with aluminium corners & seat framing
Roof – hail resistant one piece skin with insulation
Suspension – JTECH Suspension Independent Coil
Walls – fully insulated Toughframe
hail & dent resistant
360 degree Cameras (Optional)
Brake Unit – Tow Secure Emergency Braking
Electric Brakes
External Triple Lock security door
Lockable Water Filler
Reversing Camera (Optional)
Side Camera (Optional)
Sway Command Tow Control
Large Storage area under bed
Overhead storage compartment
Side Entry Boot
100 Ah Battery (Caravan 2 x 100 Ah)
100 Ah Lithium Battery (Optional)
2 x Roof mounted 160w Solar Panels
24″ LED 12v TV with built in DVD player
Bluetooth enabled for battery and water tank monitoring app
Built in battery management system with built in 240v charger
CD/Radio with Internal & External Speakers
Internal mounted WiFi system with built in GPS
LED display for battery and water tank monitoring
Roof mounted TV antenna
Winegard Sensar Pro Signal Amplifier (Optional)
3 Burner Cook top (4 Burner griller/oven in Caravan)
Bed linen including doona and pillows
Double bed with orthopaedic slats
Gas Hot Water System
Innerspring Mattress to main bed
Microwave
Modern design shower with exhaust fan
Rangehood with 12v LED light & twin fans
Roof mounted Air Conditioner
Seating area with selection of durable leatherette
Seating area with selection of genuine leather (Optional)
Seating area with selection of modern fabrics (Optional)
Truma Ducted Gas heating (Optional)
Water filtration system to sink (Optional)
12v Power outlet doorside
240v Power outlet doorside
Alloys & Tyres – 245/70R16 AT including spare
Awning walls (Optional)
Corner steadies – Drop
Coupling – D0-35
Dust Reduction System (DRS)
External shower hatch
Fresh Water tank – 2 x 80L
Front Tool Box
Gas Bottles – 2 x 9kg
Grey Water tank (Model Specific) (Optional), Jerry Can holder x 2
Jockey Wheel – Side mount
Light – LED 12v doorside
Light – LED 12v grab handle
Mains pressure to A-Frame tap
Mudflaps
Nitrogen filled tyres
Picnic table
Electric awning with LED Strip
Side checkerplate protection
Slide out external kitchen with cook top and sink (Optional)
Slide out Step
Under body protection flap
Under mounted gas bayonet for external cooking
360° Interior Walkthrough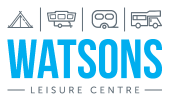 P: 1300 518 083 W: watsonsleisurecentre.com.au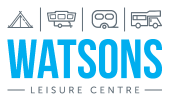 P: 1300 518 083 W: watsonsleisurecentre.com.au
Key:
(O) – Option – Customers can choose to option out their RV with this particular product. An option does not come with an RV unless it has come fitted to a stock unit and clearly states this in the description and accompanying photos
Please note: Jayco can from time-to-time change options, decor and other features of a van without notice. Always confirm with a Watson's Leisure Centre Salesperson as to the exact features of the RV.
More 360° Walkthrough Coming Soon!
* Pricing is based on a standard 2020 model. Drive away price is inclusive of all on road costs. Additional weight tax may apply for NSW registered vehicles. All images are for illustration purposes only. Features subject to change. Visit our website terms or use for more information.