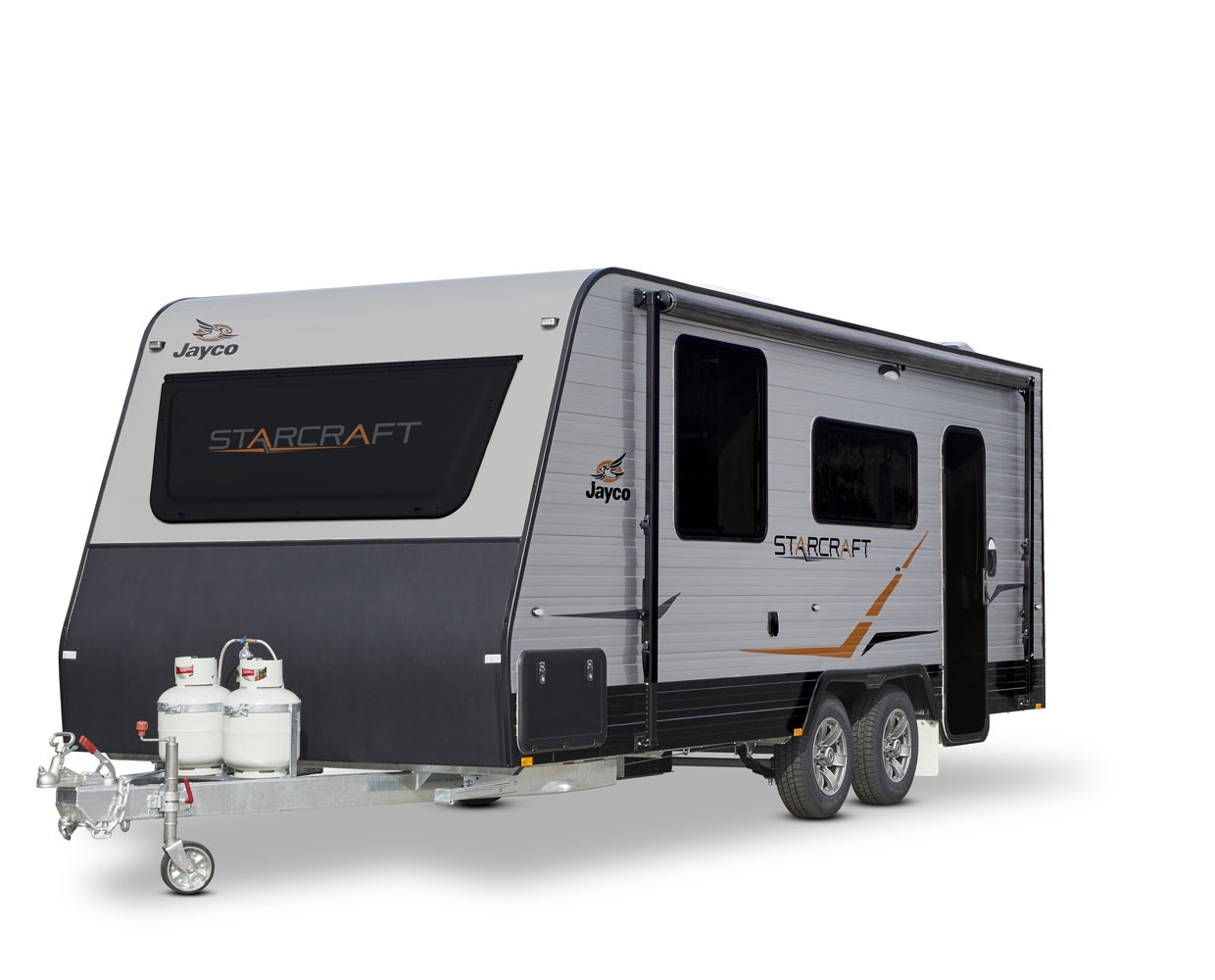 STARCRAFT CARAVAN
Feature packed & exceptional value for money
One of Jayco's most popular caravan's has made a comeback and it's ideal for people who may be looking to purchase their first caravan. Why buy used when you can buy new?
Jayco's 2020 Starcraft has quite literally taken to the stars with a new futuristic look. Featuring exterior aluminium cladding with market-leading, fully insulated quad-layer walls that comprise of internal wall ply and insulation, aluminium frame, and external 3 mm ply making you warmer in winter and cooler in summer.
With a choice of models in this refreshed range, what set's Jayco's Starcraft apart, is the exceptional value for money with comfort and style to match.
Jayco Starcraft offers first-rate value at second-hand prices.

DURABLE EXTERIORS
Toughframe
Jayco's vacuum-bonded quad-layer wall construction technology is both stronger and lighter than the conventional 'timber & tin' aluminium-clad caravan walls. Built on lightweight aluminium frame for extra strength and longevity, Tough Frame provides great thermal and acoustic insulation. The furniture in your Jayco caravan is built on our patented aluminium frame for strength and durability.
1 Hail and dent resistant, aerodynamic fibreglass exterior with high gloss finish.
2 External 3mm plywood board to increase structural strength.
3 Aluminium frame – not timber – for extra strength, plus glavanised plating for secure fitment of internal furniture.
4 Internal high-density polystyrene foam for superior insulation.
5 Internal 3mm plywood board with polyester coating for maximum durability.
Endurance chassis
An RV is only as strong as the base on which it's built, so we build our Endurance Chassis to last like no other. Lightweight yet super strong, it's hot dip galvanised for lifelong protection against corrosion, and features PSC member floor support, which better resist bending and compression, while also safeguarding under floor wiring and plumbing.
Aluminium frame
The furniture in your Jayco caravan is built on our patented aluminium frame for strength and durability.
Jtech 2.0 Suspension
Jayco Caravans come with a precision manufactured suspension system (standard on Outback). The specially designed, high-performance JTECH Suspension delivers greater stability, a smoother ride, exceptional handling and increased ground clearance.
Purpose-built to complement the Jayco Endurance chassis, JTECH independent coil suspension delivers greater stability, precise handling and increased ground clearance for easy and safe towing.
Each JTECH Suspension system includes:
• Electro-coated surfaces for optimal protection against corrosion and stone chips.
• Stub axles, bearings and brakes that are suitable for fitment of Lippert Electronic Stability Control.
• Large diameter, heavy-duty Pedders off-road shock absorbers and coil springs designed specifically for Jayco RVs and Australian conditions.
• Aeon rubber springs inside each coil spring, producing a progressive rate when the suspension is compressed.
• Toe-in and toe-out adjustment for wheel alignment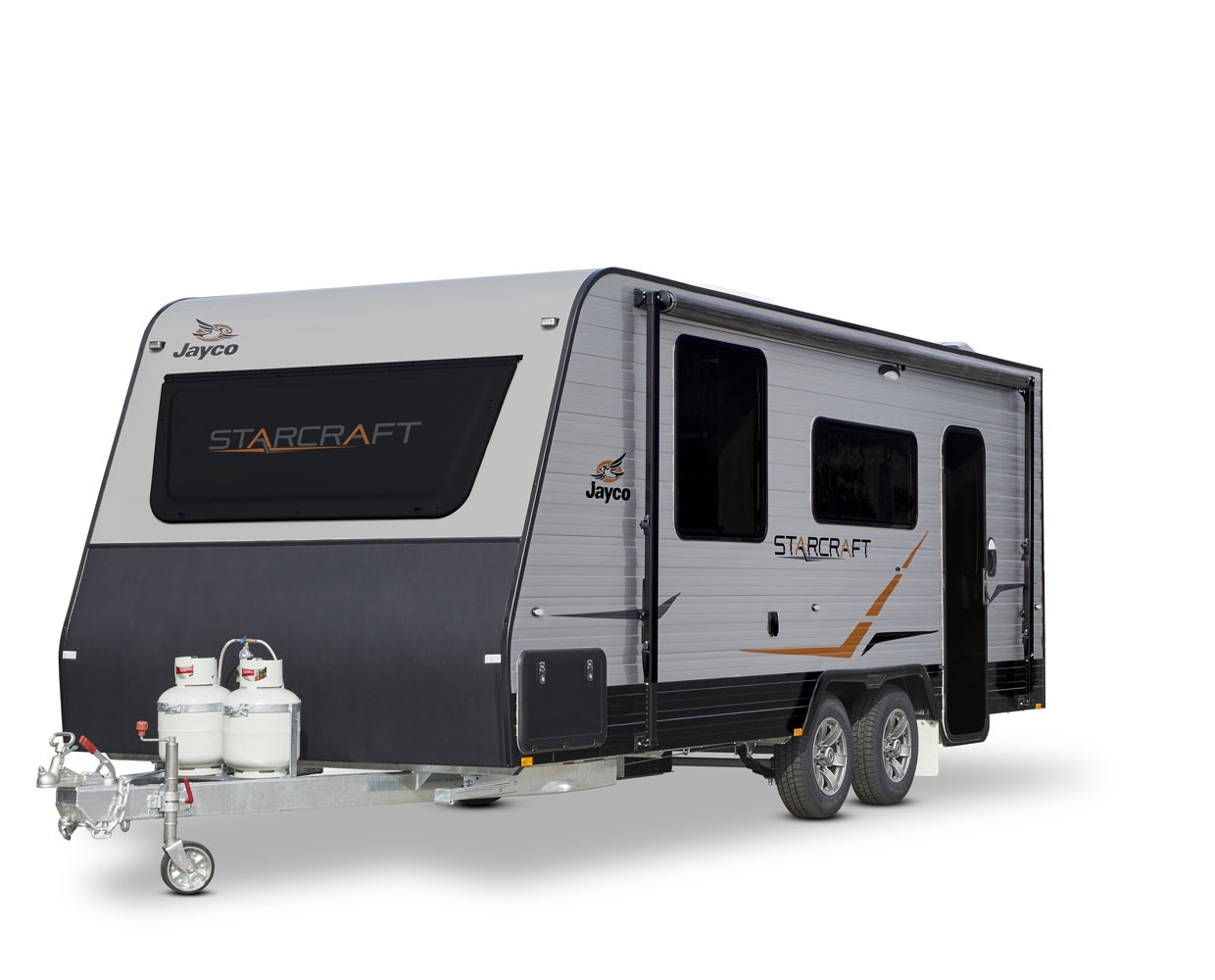 Starcraft Touring Caravans
Starcraft Bushpack Caravans
Features:
Chassis – Hot dipped galvanised
Furniture – Euro style with aluminium corners & seat framing
Roof – hail resistant one piece skin with insulation
Suspension – axle & leaf springs
Walls – fully insulated
aluminium frame & external ali clad
Brake Unit – Tow Secure Emergency Braking
Child restraints to bunk area ( model specific)
Electric Brakes
External Triple Lock security door
Lockable Water Filler
Sway Command Tow Control (Optional)
EziGlide Drawers including Pot Drawer
Large Storage area under bed
Overhead storage compartment
Side Entry Boot,100 Ah Battery
Additional 100 Ah Battery (Optional)
24″ LED 12v TV with built in DVD player (Optional)
Bluetooth enabled for battery and water tank monitoring app
Bluetooth speaker dock to suit Furrion Portable speaker
Built in battery management system with built in 240v charger
CD/Radio with Internal & External Speakers (Optional)
LED display for battery and water tank monitoring (Optional)
Roof mounted 160w Solar Panel with regulator (Optional)
Roof mounted TV antenna (Optional)
164L Fridge with built in freezer compartment
4 Burner Cooktop with built in Griller
Bed linen including doona and pillows
Double bed with orthopaedic slats
Bed converter (Optional)
Hot Water System
High density foam mattresses to bunk areas (model specific)
Innerspring Mattress to main bed
Microwave
Modern design shower with exhaust fan
Rangehood with 12v LED light & twin fans
Roof mounted Air Conditioner
Seating area with selection of durable leatherette (Optional)
Seating area with selection of modern fabrics
Shurflo 12v water pump
Washing Machine with 3.3kg capacity (Optional)
Water filtration system to sink (Optional)
240v Power outlet doorside
12v Power outlet doorside (Optional)
Alloys & Tyres
Awning walls (Optional)
Corner steadies – Wind down
External shower with pop up tent (Optional)
Fresh Water tank – 2 x 80L
Gas Bottles – 2 x 9kg
Jockey Wheel – Side mount
Light – LED 12v doorside
Light – LED 12v grab handle
Mains pressure to A-Frame tap (Optional)
Mudflaps
Nitrogen filled tyres
Pebbleguard stone protection at front
Picnic table (Optional)
Rear mounted bike rack (Optional)
Roll out awning with LED Strip
Under mounted gas bayonet for external cooking (Optional)
Underslung axle (increased ground clearance) (Optional)
Window shield – front with gas assisted struts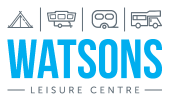 P: 1300 518 083 W: watsonsleisurecentre.com.au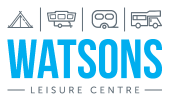 P: 1300 518 083 W: watsonsleisurecentre.com.au
* Pricing is based on a standard 2020 model. Drive away price is inclusive of all on road costs. Additional weight tax may apply for NSW registered vehicles. All images are for illustration purposes only. Features subject to change. Visit our website terms or use for more information.