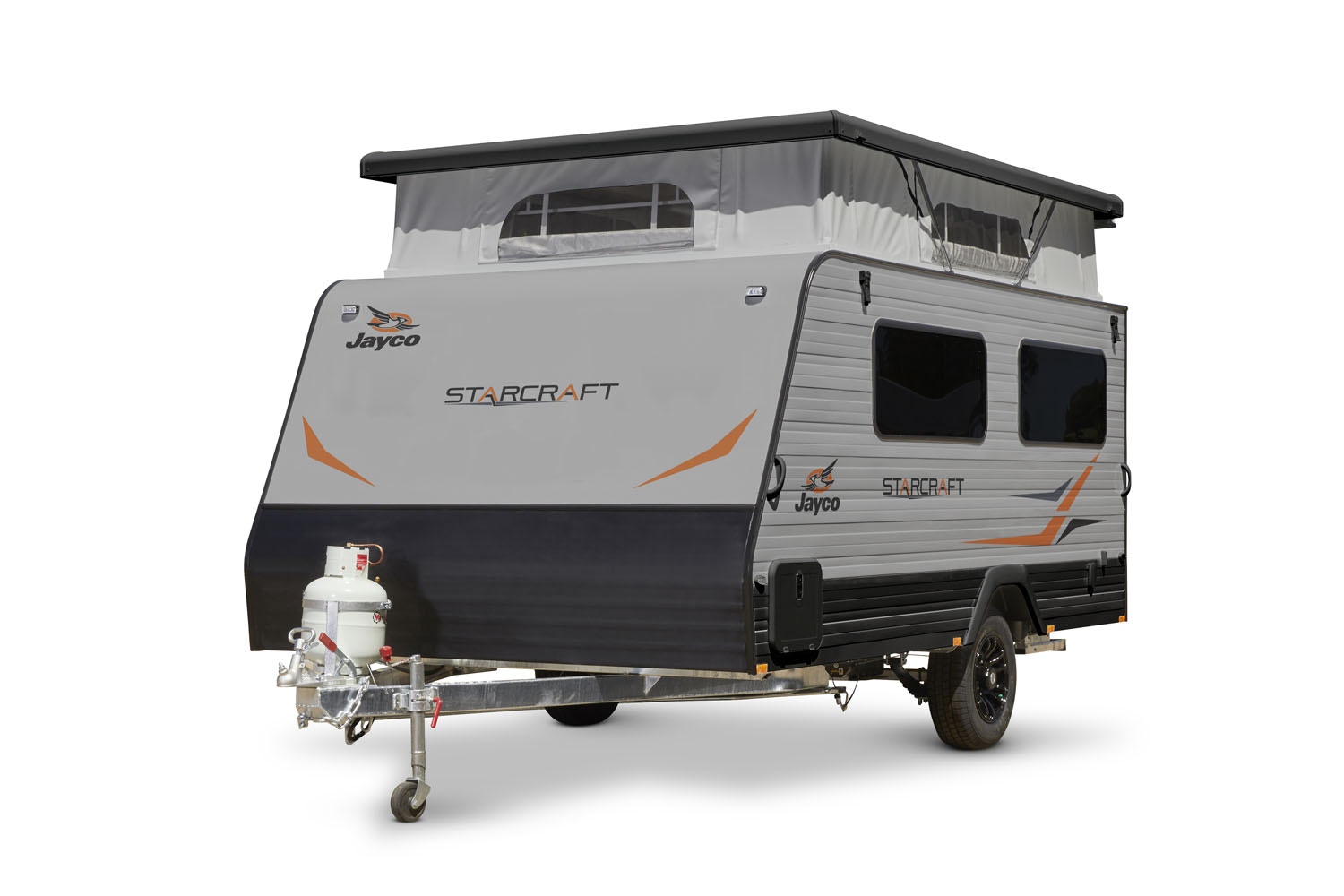 STARCRAFT POP TOP
Make everyday an adventure
One of Jayco's most popular Pop Top's has made a comeback for 2020!
Jayco's 2020 Starcraft has quite literally taken to the stars with a new futuristic look. Featuring exterior aluminium cladding with market-leading, fully insulated quad-layer walls that comprise of internal wall ply and insulation, aluminium frame, and external 3 mm ply making you warmer in winter and cooler in summer.
Ramping up the already feature packed Pop Top is the inclusion of alloy wheels, front tunnel boot for extra storage and a 9kg gas bottle.
Jayco's Starcraft range is set to pop into adventure mode with its lightweight and compact storage capacity. But what sets Jayco's Starcraft apart, is the exceptional value for money with comfort and style to match.
Features
Chassis hot-dipped galvanised
Furniture – Euro style with aluminium corners & seat framing
Suspension – axle & leaf springs
Walls – fully insulated
aluminium frame & external ali clad
Electric Brakes
External Triple Lock security door
Lockable Water Filler
Large Storage area under bed
Overhead storage compartment
Side Entry to main boot
Bluetooth enabled for battery and water tank monitoring app
Bluetooth speaker dock to suit Furrion Portable speaker
Built in battery management system with built in 240v charger
2 Burner Cook-top
90L Fridge with built in freezer compartment
Hand operated water pump
Innerspring Mattress
Microwave
Roof mounted Air Conditioner
240v Power outlet doorside
Corner steadies – Wind down
Fresh Water tank – 1 x 80L
Gas Bottles – 1 x 9kg
Grab handle with 12v LED light
Pebbleguard stone protection at front
Picnic Table (Optional)
Rear bag awning
Solar panel upgrade (Optional)
TV antenna (Optional)
Under mounted gas bayonet for external cooking (Optional)
* Pricing is based on a standard 2020 model. Drive away price is inclusive of all on road costs. Additional weight tax may apply for NSW registered vehicles. All images are for illustration purposes only. Features subject to change. Visit our website terms or use for more information.