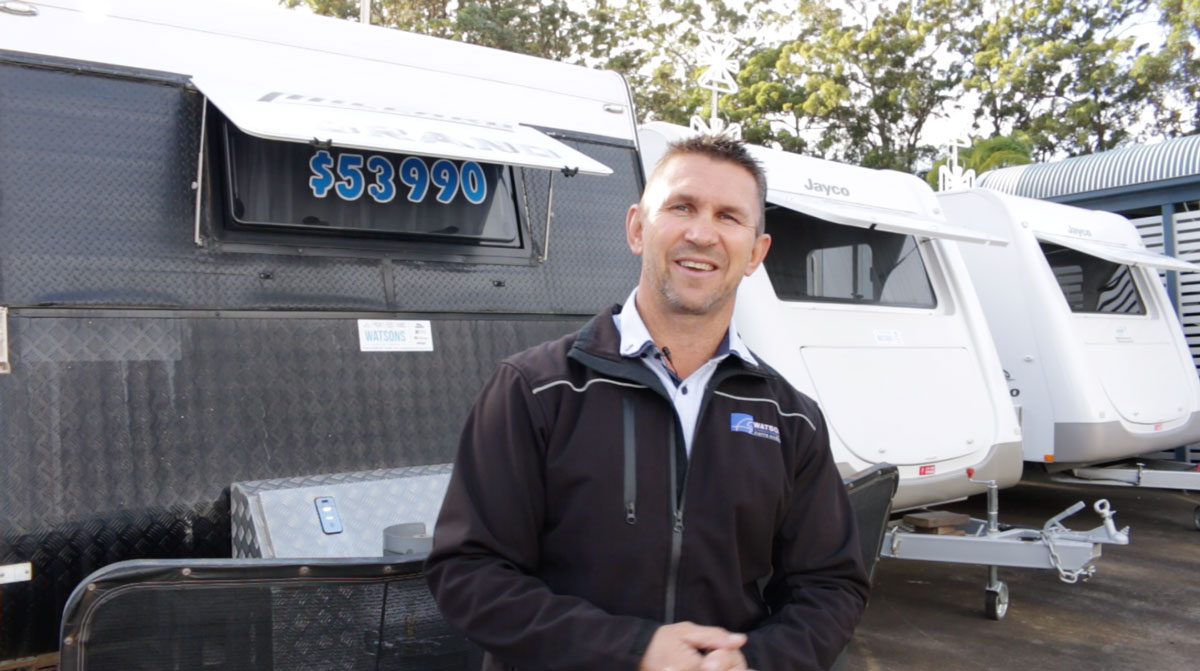 Here are some helpful tips from Kris Watson on how to present your trade-in to get the best dollar you can.
Keep service history log books & receipts
Present it the best way you can
Look at it like you're buying it again
Tell us about damages or home jobs
Be confident that trading is best for you
Maintain it the way you purchased it
If you bought it from us, bring it back
Consider trading while on the road
Be honest & enjoy the experience
Keep service history log books & receipts
The more documentation around regular services and up keep the better.
Present it the best way you can
When you're presenting your van to the dealer, it's important that you give it to us the best way you can. So ideally, if you can bring the van into us so we can go through it. You can look at your new van, we can inspect yours and give you the best dollars we can. If distance or time is an issue, we can endeavor to get out to see you, as we do often or thirdly, you can jump on our web, photos, descriptions, event plays, all those things. It's all available on our website jaycocoffsharbour.com.au that way you can give us a visual of your van, we can then go through it and give you a really clear indication of what we think your van is worth.
Look at it like you're buying it again
We've all had a product that we've had a little scrape, a little nick, scrapped the awning, backed into a post and we think that those little blemishes are not a problem; but they are, unfortunately. So look at your van as if you're buying it again yourself.
Tell us about damages or home jobs
So if you've got hail damage, excessive tire wear, home modifications, cover-ups of some description, please be up front because we will see it. If you've painted your van, we know that you've covered something up. Excessive tire wear and of course hail. Now hail can be in different ways, it can be really clear if it's been in a massive storm or you can have that really fine stuff that you have to get on a right angle to see. But if it's there, as a dealer we have to disclose that information, so it does make a difference to your price. So please tell us before you bring the van in. We do know what we're looking at, but we're here to work with you to get the best price we can. Another common one is home modifications. If you've put on your own clothesline, if you've loaded up the bumper bar full of generator boxes, Jerrycan holders, etc. It's more than likely we're going to take that stuff back off because it's not legal. Same with your gas bottle compartment, if you've put in battery charges, batteries, electrical equipment in with your gas, it's not meant to be there. We have to take it all back out. So just keep that in mind that what you might have done at home actually hasn't increased its value.
Be confident that trading is best for you
This is how we get our pre-loved stock – through trading or buying; so we really do want your van. Plus it makes it easier for you. You don't have to jump on websites, go to the local paper or have old Billy Blogs coming around to your premises to check you out – not only your caravans but maybe your other possessions. So we're here to help. It's a win-win for both of us. One, we make it easier for you, it's just one stop to get the new van and off you go without dealing with internet scammers, all that other stuff that's in this modern world today. So it's in our interest and it's definitely in your best interest if we can get a great price on your trade-in. We both walk away happy, Can't be any easier than that.
Maintain it the way you purchased it
Another part of your trade-in that is really important is that we only expect your van the way you purchased it. So for example, gas bottles – if you bought a non shower caravan, it's got one gas bottle. If you bought a shower caravan, it came with two gas bottles. We need those gas bottles, not your barbecue, we need your gas bottles. Spare tires is another one, every van will come with at least one spare tire, so make sure it has its spare. If we have to replace that stuff it devalues your van.
If you bought it from us, bring it back
To our valued clients – repeat business is the cornerstone of our business. So we want your trade-in because we know when you picked it up that it was serviced and you probably bought it back for servicing. We know the history on your van. We know you and we're here to keep that relationship going. We have customers that are on into their second decade of caravans. We have another customer base that's on their third generation! So once you're our customer, we want to keep you our customer, and we will give you the best deals we can. So your trade-in is worth even more money to us, so come and see the team.
Consider trading while on the road
Another part of our business is the traveling trade. We want your business and we can turn it around really quickly. Our customer base is far and wide. We even have a plank for when you're swapping over your products, you don't even have to step down – you just walk straight across from one van to the next. We've had customers stay on our property because they're not just moving caravan, they're actually moving house. When the van is at home and it's parked at the backyard, you forget what you don't like about it. When you're on the road, you're, "oh damn, I wish I had a showering tool, I wish I had a bit more space, I wish I had a bit smaller van to tow" Whatever the case may be, we want your trade-in. And if you find your new van here, we can do a turnaround in a couple of days.
Be honest & enjoy the experience
If there's something you're worried about, please let your salesperson know and we'll endeavor to get out and see your van. Go through those things because they might not be as bad as you think. But as long as you know, and we know and we're both on the same page, will make that delivery day the best it can be.
Fill in our simple online form and submit your vehicle for sale or trade-in today